[efaccordion id="02″]
[efitems title="Is there A Glass Doctor in the House?
Collector's Digest | May/June 1992
By Jenny Muncie" text="If you should ever break an arm or a leg you elementally go to a doctor. If you break the stem of your finest Waterford Crystal goblet, you would carefully take it to a glass doctor. Wayne Montano know as the "Glass Doctor" all over Southern California and parts of Northern California has been repairing and mending glass for the last ten years. He and his wife, Jan, along with their two sons, Joe, 16, and Steve, 14 have successfully formed a family operation in their home in the California high desert. An occupational change in 1981 opened up new opportunities. Wayne and Jan began selling antique glassware and eventually needed a piece of glass repaired. Wayne contacted Jim Eberhardt in Ontario, California and ended up an apprentice of Mr. Eberhardt who was about to retire. Instead of the normal four year training deemed necessary, Wayne and Jim agreed to condense the appropriate training into a two and on-half year program, working ten hour days, six days a week.
The Montanos specialize in cut glass. They have a glass cutting shop with about three hundred fifty stone wheels and diamond cutting wheels. They have been know to repair up to 10, 000 pieces of glass in one year's time. Most of their business is form repeat customers that attend the various antique shows throughout the California area. Wayne and Jan work between thirty and forty -six shows a year. They also have a pick-up and delivery service at the Glendale Antique Show once a month They have decided through the years that the large majority of pieces repaired are not because of the cost or quality of the individual item but because of the sentimental strings attached to a particular piece of glass. Less than 5% of their business comes form antique dealers.
When repairing porcelain or china there are two methods. One is mending in which the broken pieces are mated and glued together. A line will still show. The other method is restoration. This involves mending, painting, glazing and filling. It can cost a customer up to ten times more the price of mending alone.
Glass, unfortunately, cannot be restored, only repaired. It is just about impossible to add glass to glass. It involves matching the exact formulas used in the processing of the glass item. If a goblet encounters a large chip around the rim, Wayne would imply cut it down until abut 80% of the damage is gone. He would then roll the edges and one could not see the difference. It is possible to notice a difference in the height of the goblet as compared to it's matched stemware, but since most glass prior to 1972 was hand blown, the height of each goblet would vary anyway. The other most common repair in glassware is when an item has split in half. First, Wayne checks for additional cracks. The more chips along the break, the more damage will show. The type of adhesive used can hide up to 90% of the break. If the crack is clean, in other words, if there are no chips along the edges, the pieces can be used as before. If not, it would be best to leave it out for display purpose only. The adhesive used is an acid and bonds permanently. It is dishwasher and microwave safe.
Finally Onyx, according to Wayne, is the most difficult glass to mend. It was produced for a very short time beginning in 1886. It is layered glass, usually found in creamy white accented with metal lustre that has been trapped between two layers. It becomes very brittle making a repair very difficult. And yet another piece, possible 2,000 years old may be very strong and durable making it much easier to work with.
No matter if your damaged mayonnaise jar needs mending or your Lalique vase lacks perfection, you can be sure that Wayne will take the same amount of time and care in repairing it for you. A word of advice form the glass doctor, "Whoever you take your piece to, satisfy yourself with an example of what they do. Get a second opinion. Don't go on blind faith""]
[efitems title="'Glass Doctor' brings new life to heirlooms
Inland Valley Daily Bulletin | August 31, 2001
By Dave Milbrandt" text="Wayne Montano has former President Ronald Reagan to thank for getting him into the glass repair business.
Montano, 50, was one of more than 11,000 air traffic controllers fired by Reagan after an industry-wide strike in August 1981. Looking for work, he ran into local glass repairer Jim Eberhardt.
Montano decided shortly after that meeting to enter the business. He spent two and a half years learning the craft from Eberhardt and then took over the business from his mentor.
Today, the Phelan resident travels to antiques shops and shows throughout Southern California, repairing glass bowls, glasses and pitchers.
Known by many as the "glass doctor," Montano recently spent the weekend of Aug. 17 to 19 at Ontario Antiques 203 W. B St., fixing about 110 pieces brought in by private individuals and glass collectors from the Inland Valley and beyond. Montano plan to return to the store in January.
Glass dealer Jay Byrne, 50, drove from Tujunga to have Montano work on some pieces. Bryne appreciates his attention to detail.
"You can't tell when it been repaired," he said.
Byrne has worked with Montano for about five years and is delighted with the quality of work.
"I won't let anyone else touch my glass," he said.
Claremont collector Norm Sandusky, 67, has done business with Montano for 15 years.
"Wayne is the most fantastic glass repairman that I am aware of," he said. "There just isn't anybody better."
Montano's distinctive technique involves "rolling" or sanding both inside and outside edges of the glass and then applying a high-gloss polish.
Repairing chipped glasses requires a seven-step process taking about 20 minutes.
If a large piece is broken off a glass antique, he uses an acid as a bonding agent. To finish the adhesive process, he holds an ultraviolet lamp over the piece for several seconds.
Repairing an antique is usually better than the alternative, Montano said.
"It's a lot cheaper to have an $80 glass repaired for $14 then replaced for $80," he said.
Much of his business comes from people looking to restore a family heirloom.
"We are looking for someone who has something of sentimental value up in the cupboard," Montano said.
He has restored about 200,000 assorted pieces over the years.
"You see a little bit of everything in this business," Montano said.
His wife, Jan, 50, travels with him, helping customers while he works with the glass.
The personal interaction is what she appreciates most.
"We have met some great people," she said.
Jan Montano said the couple drive about 50,000 miles each year for work.
"We go where the business is," she said.
The Montanos also offer repair services through their Web site, attracting about 10 customers each week.
"I can't believe the amount of Internet business we get from around the world," he said.
Even though Wayne Montano never intended to enter the glass repair business, he is pleased with his job.
I don't think I could have picked a better occupation.""]
[efitems title="Mending Magic
Collector Newspaper
By Robert Copperstone" text="

A middle aged couple carrying two broken Limoges dinner plates approached "The Glass Doctor's" booth at a recent Sy Miller Show at the Anaheim Stadium Exhibition Center.
Pointing to her husband, the woman explained, "This china was in his family for years." The husband said they tried but couldn't match the pattern after the plates were broken in a cleaning mishap. One plate was in two pieces, the other in five.
So the distraught couple, like thousand of other people each year, found themselves in the capable hands of Wayne Montano, "The Glass Doctor."
The ubiquitous Montano and his wife, Jan, who might be called "The Glass Nurse" are at almost every antique show on the West Coast, and have built up an impressive business. The work is practically endless, some 10 hours a day, 6 days a week. They've done 46 shows a year, and in 8 1/2 year, Wayne estimates that some 21,000 pieces have undergone glass surgery.
The Montanos carry their shop with them, although there are large machines such as cutting arbors and polishers at their home base in Phelan, Ca., for specialized purposes. Jan works the font counter and hears the sad tales of smashed heirlooms, while Wayne sites at his water lubed grinding wheels and small tools.
"I was the victim of Reaganomics" which got me started in the business," Wayne laughed while taking a hot dog break form the crunch of business at Anaheim. He explained that he had been working as an air traffic controller when President Reagan punished the controllers' union, putting Wayne out of work.
"I had been an air traffic controller in Palmdale for 11 years," Wayne said. "I knew it couldn't last long, since the average controller's career burns out at 18 years."
When he was in the antique business in Wright wood, he had met glass repair specialist Jim Eberhardt of Ontario. Eberhardt had been in the business for 32 years, and was ready to retire.
"So when the strike went down, I apprenticed with him for two and a half years," Wayne remembers (An apprentiship can be as long as 4 years). We lived off our savings account, and Jan got a job as a waitress to support us during the apprenticeship."
Jan and Wayne do not delude their customers into thinking the repair work will appear flawless. "Cracks will show in cemented items, as will chipped or missing pieces," one of their brochures advises. "heat cannot be used to fuse glass together, nor can glass be melted and used for a filler for missing pieces."
Wayne makes sure customers understand that he performs mending, not restoration. "If you want it perfect, buy Tupperware – it bounces." This was his advice to people who want the repaired piece to look flawless.
Wayne is very careful so that his work is not used to represent repaired items as new. "Only 5% of my customers are dealers,"he said, "and most of that work is for dealers' private collections." The fact that he repairs, and not restores, acts to prevent such misunderstandings.
Despite the reduced expectations, people flock to the Montanos to salvage priceless pieces. Often, blame for the breakage is still very close to the surface when customers bring the fragments to the Montanos. "I remember one woman who had a real hard time telling about the breakage," said Jan. "I asked her where the damage was, and she said 'In the China cabinet.' I said, "No, where did the damage appear?" and she just said, 'in the cabinet, when I was dusting.' I just couldn't get here to tell me where the damaged place was to be repaired"
Often, customers fear that the piece to repaired will be subject to accident beyond repair, a point about which Wayne is very sensitive. He has his own stake in remaining accident free. He remembers his mentor, Jim Eberhardt, losing a goblet that slipped out of his hand and got caught in the grinding wheel. Glass shards were hurled form the high speed wheel into Eberhardt's face, inflicting wounds that required more than a dozen stitches.
"It can happen, but it's very rare," Wayne said. "There can be hidden fractures or other weaknesses."
One of the Montano's toughest jobs was an 18 inch cut glass lamp shade in a geometric pattern which came to them in more than 360 pieces. The job took them 7 months, working as often as they had a chance, with Jan taping the pieces and Wayne repairing as she rebuilt the piece.
"It was a family heirloom; they didn't care about the price," Wayne said. However, he charged only $350, despite the lengthy labor.
"Wayne said that about 60% of his work is on goblets, mostly taking the nicks out of the rims. That's easily accomplished by grinding down the entire rim, then rebeveling the edge. That work is practically unnoticeable," Wayne says, "because hand blown glassware is almost always of different heights even when new."
The Montanos have established a large network of drop off points for their repair, working on an 18 day turnaround."]
[efitems title="Living on the Edge: Couples glass-repair business has a clear mission
For Antiqe Trader
By Susan Eberman" text="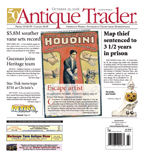 EMMETT, Idaho — A broken glass led Wayne Montano to a new career. "In 1981 my husband was a laid-off air traffic controller," his wife, Jan, explained in a recent phone interview. "We enjoy collecting antique glassware. My favorite is Fostoria while Wayne likes cut glass. When he was out of work we began setting up at major antique shows near our southern California home.
"When a goblet in our collection needed repairs, we contacted glass repairer Jim Eberhardt of Ontario, Calif., and found out he was ready to retire after 32 years in business. After much family discussion, Wayne decided to apprentice under Eberhardt and then take over his business. The four-year apprenticeship was condensed into two and one half years because my husband was willing to work 10-hour days six days a week. It was a hard time for our family," Jan remembered.
Throughout the 1980s and 1990s, Wayne became known as the "glass doctor," although he also repairs broken china. The Montanos set up regularly at several California antique shows and had a circuit of antique shops throughout the state that customers could use as a drop-off and pick-up point.
"For more than 25 years we have been providing a service repairing antique and collectible glass," Jan said. "Our specialty is the re-cutting and restoration of American brilliant-cut glass using stone wheels, copper wheels and modern diamond-wheel cutting. Our cutting shop has about 350 stone wheels and diamond cutting wheels. We also repair Galle, Lalique, Verlys and many other types of art glass. We can duplicate the finish on these types of items.
"We also mend glass and crystal using permanent crystal-clear adhesives. If the piece has a clean crack with no chips along the edges, the adhesive we use can hide up to 90 percent of the break. We can replace daubers on the ends of perfume stoppers and Wayne can even make an antenna for a Steuben snail.
"About 60 percent of the pieces we repair are goblets. Most of the work is taking nicks out of the rims. That's accomplished by grinding down the entire rim, and then re-beveling the edge."
Now empty nesters, the couple moved to Emmett in 2005 to be closer to family. Many customers now ship their items needing repair.
When asked about their toughest tasks, Jan remembers an 18-inch cut-glass lampshade in a geometric pattern that came to them in more than 360 pieces. "The job took us seven months," she recalled. "We worked on it as often as we could. I taped the pieces and Wayne repaired as I built the piece. It was well worth the time and money to the customer because it was a family heirloom."
Overall, Wayne said onyx is the most difficult glass to mend. Produced for a short time beginning in 1886, it is layered glass usually found in creamy white, accented with metal luster that has been trapped between two layers. It becomes brittle and that makes it difficult to repair.
During the peak glass-collecting years of the late 1980s and early 1990s, the energetic couple repaired as many as 10,000 pieces of glass each year. The number of repairs in 2006 totaled about 6,000. However, the number of extremely complex repairs has grown significantly as word of Montano's skills has spread.
"Most of our customers are concerned about the sentimental value of the item and not how much it's worth. Only about five percent of our customers are antique dealers," Jan said."]
[/efaccordion]