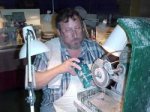 In 1980 we opened an antique shop in the small mountain town of Wrightwood, located in the San Gabriel mountains in Southern California. A gentleman by the name of John Lyles came in one day to browse. He noticed that a few of our glass items had small chips on them. He mentioned that there was a antique glass repair shop in Ontario, California, about 45 miles one way.
We made an appointment and took our chipped glass to Eberhardt's Antique Glass Repair. Over the next few months we found Jim to be a terrific glass repair person. He had great equipment and talent for repairing glass. He had been taught by an old time glass repairman, Fred Dobson.
Jim was thinking about retiring from the glass repair business. He had been repairing glass for 30 years. Wayne said he was thinking about a career change and if Jim wanted an apprentice would Jim teach him glass repair? The answer was yes!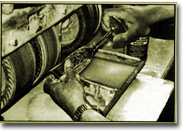 In Oct of 1981 Wayne changed careers and became Jim's apprentice. The program was to be for 4 years, but after 6 days a week and 10 hours a day Wayne learned the art of glass repair in two years. Jim's final test was a damaged 12″ cut glass bowl that he ground the teeth off and most of the pattern. Wayne had to re-cut the entire top and pattern. After Wayne finished this project Jim said there was nothing more that he could teach Wayne. He was no longer an apprentice. He was a full fledged glass repairman.

In the 1980's there were still glass cutters alive who had worked for large glass houses such as Libbey, Parsche, Hawkes, Tiffin and Durand in the early 1900's – 1930's. Some still had their glass cutting equipment. Some of them still cut on glass and others did repairs on glass. Wayne was able to meet a few of these gentlemen and acquire over 300 stone wheels, 6 lathes, and a copper wheel engraver to be used along with his diamond wheels and hand tools.
On The Road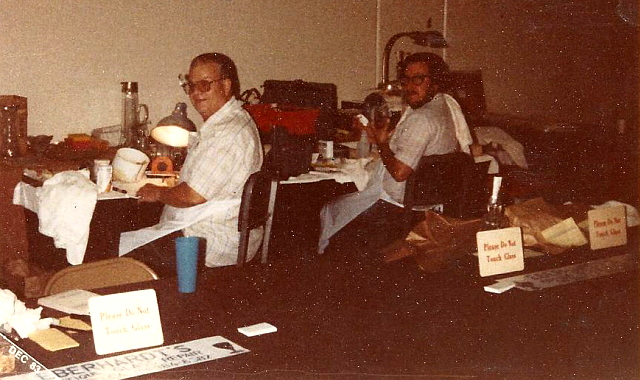 Well, as they say the rest was history. Jim didn't retire right away. He and Wayne went on the road with their glass repair services. They started with pick up and deliveries at local glass shows. After a while they branched out to work on site at craft shows and then antique shows throughout Southern California with their portable glass repair equipment. After a year Jim decided to retire for good. Wayne soon became "The Glass Doctor" at antique shows such as Sy Miller's Antique Shows in San Diego, Santa Barbara, Ventura, and Pomona plus Michael Grimes Antique Shows in San Luis Obispo, Santa Maria, and Hemet. Also he repaired at the Calendar Shows in Pasadena, Riverside, and Palm Springs.
More shows were added through the years such as the Calm Show in Santa Barbara and the Hillsborough Antique Show in San Mateo. Wayne and I traveled up and down California working at shows. Our favorite spots were shows in Bakersfield and Hawthorne. Also there were pick up and deliveries once a month at the Glendale Antique Show and at malls and shops in Redlands, Pomona, Fullerton, Pasadena, and Fresno. We traveled over a 20 year period doing repairs on the road and averaged 10,000 pieces of glass a year. That is a lot of glass. Whew. Wayne says he can repair goblets in his sleep!
In 1994 Montano's become an online business in addition to still traveling. Our traveling extended to Oregon, Washington, Nevada & Idaho.
We could wax poetic about the shows we have done, the movie stars we have met, the high end dealers and museums we have done work for, but that is not our style. We repaired all types of glass and found that it didn't matter where you came from or what kind of glass you had that was important. What is important is that you valued your item enough to entrust it to us. And we valued you as a customer and still do.
In 2005 Wayne and I moved to Idaho to be near family. We settled in the small town of Emmett, near Boise. We have stopped traveling to shows figuring almost 30 years on the road was enough. Our business has primarily become an internet service business. Items to be repaired come from across the country and around the world. We have no plans to retire.
The best parts of this business has been seeing, learning, (and repairing quite a bit) the wonderful glass that America and Europe produced, meeting and becoming friends with our great customers and making memories with our antique dealer friends. We even have several customers who took their repairs to Jim Eberhardt sending us repairs
This has been a wonderful business to be in and we look forward to many more years!